Richard Wagner, boxer who faced some greats, dies at 79
Sep 11th, 2006
Fierce fighter - The Union Pacific Railroad switchman also played small roles in movies
HARRY ESTEVE
The Oregonian
Light-heavyweight boxer Richard "Dick" Wagner, who could take just about any punch and stay standing, died Friday in Tigard of age-related causes. He was 79.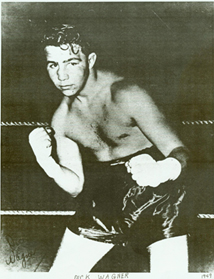 Wagner traded blows with such greats as Jake LaMotta and Floyd Patterson and was a feared fighter in his day, say those who knew him or watched him in the ring. He won the large majority of his 50 professional bouts, more than half those wins by knockouts.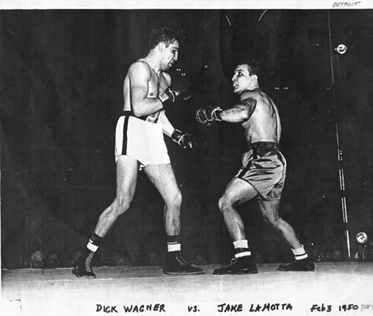 "He just kept boring in, wouldn't back down, throw after throw after throw," recalled Jim Gooding, of Estacada, a fellow member of the Veteran Boxers Association of Oregon. "A punch couldn't stop him."
But boxing was just part of an active and varied life. A Union Pacific Railroad switchman for 32 years, Wagner hunted, fished, wrote a detailed autobiography and had small roles in a couple of Hollywood blockbusters.
"Dad was a gentle, but a really strong, powerful person," said his daughter Betty Wagner of Portland. She remembered her father stepping in to stop fights, suggesting bullies take him on instead. "It was like living with a superhero."
Other survivors include his wife, Elizabeth Wagner of Portland; daughters Claudia Wagner of Hillsboro and Joanie Juba of Portland; son, Rick Wagner of Seattle; and sister, Lorraine Grigg of Waldport. Arrangements are pending*.
Born Oct. 20, 1926, in Toppenish, Wash., Wagner developed a strong affinity for the Yakama tribal members he hung out with. He later established strong ties to the Confederated Tribes of Warm Springs.
A childhood interest in boxing led to some early bouts on the Yakama reservation. After moving to Oregon City in 1943, he continued to look for matches. A friend told him he would have to go to New York if he wanted to pursue a career in the sport.
"He didn't have any money, so he joined the Merchant Marine," said Wagner's wife, Liz. The first ship went to Korea, but the next, in 1947, was bound for New York, she said.
There, his flair for making friends and his fierce boxing style led to connections, a manager and a training gym.
In 1950, he married Elizabeth DiLello, a Bronx daughter of Italian immigrants. They had four children.
His boxing career took off quickly as he won his first several matches. As he worked his way up the rankings, he began to draw tougher and tougher opponents.
One of them was LaMotta, immortalized by Robert DeNiro in the movie "Raging Bull." The fight was stopped in the ninth round, and the win awarded to LaMotta -- a decision that always troubled Wagner and his fans.
He fought Patterson twice, losing by a decision in the first match in 1953. In a rematch eight months later, Wagner suffered a cut in the fifth round and lost by a technical knockout.
He retired after that match.
Wagner moved his family back to Oregon in 1955, got a job with the railroad and took an interest in young people who could benefit from channeling their energy into boxing. Once, Betty Wagner recalled, he encountered some "roughneck" kids in Multnomah Village who were looking for trouble.
"You wanna fight?" she recalled her father saying. "I'll show you how to fight," and he set up a gym that eventually became the Multnomah Community Center Boxing Club.
As a railroad switchman, Wagner had lots of downtime between trains, said Liz Wager. He would hole up in the switchman's shack, pull out his notebook and start writing.
"That's where he wrote most of his autobiography," she said. He sent the manuscript to a publisher, who liked the story but didn't accept it because he didn't think it would sell enough copies.
Wagner stayed in touch with his boxing crowd and has been inducted into the Oregon boxing hall of fame, said Herbie Patzer, another retired fighter.
Wagner, "was really the ultimate warrior," Patzer said. "Nobody ever fought him who didn't suffer. He was one tough son of a gun."

* Dick's funeral will be held at Riverview Abby on September 15th at 11am.

---- end

Pictures of me with Uncle Dick appear below.