Dustin meets Dannii Minogue in Miami at Party 93.1's Not So Silent Night 2 Concert
Dec 4th, 2003
Thursday, December 4th 2003 – Didn't sleep all night fearing the flight to Miami; the alarm sounded at 5:45am, just enough time to get ready and leave the house by 6:15am to be at the airport by 6:30am. Arrived and checked in at the counter… hardly any wait in line. My flight promptly left windy Portland at 8:00am and first arrived in the sunny city of Las Vegas. This was the first time I had actually seen "the strip" from the airplane.

From Nevada, we traveled to Nashville, Tennessee where I had a three-hour layover. The weather was cold and rainy. I called and talked with Maria for over an hour and grabbed a bite to eat (my first all day).

From Nashville we continued onto Florida- although 10:00 at night, it was 70° degrees and humid. So hot, the air conditioner greeted me in my hotel room. A big change from the cold, windy and wet Portland.

The hotel shuttle picked me up at the airport around 10:45pm and I checked into the hotel around 11pm and called home to let everyone know I arrived safely. The after-flight jitters kept me up for most of the night. The plane trip wasn't bad… little bumps leaving Portland. I finally fell asleep after exhaustion set in.

Friday, December 5th 2003 – After waking up three hours ahead of myself, I contacted my online buddy of five years, Carlos, and we made plans to meet up after he finished work.

He picked me up at my hotel around 3:30pm (12:30pm Portland time) which was perfect- since I'm so slow getting ready; plus I had enough time to run next door to get something to eat at McDonalds since I only had one meal the previous day.

We drove to the BORDERS® in Coconut Grove, and were there plenty early so we looked around while we waited for Dannii. While we waited a DJ remixed some of Dannii's music and we made friends with the store manager- who hooked me up with a few extra posters to have signed for a couple of my friends.

Dannii arrived 20 minutes late, and when she walked into the room I almost burst out in tears- but I held back because I didn't want to make a fool of myself in front of a roomful of strangers, let alone Dannii Minogue!

Since I had 7 CD's and 4 posters for Dannii to sign, I waited to be last in line. Dannii was gracious to sign everyone's CD and posters and spent a couple minutes speaking and taking pictures with everyone.

Finally... my turn to meet Dannii!

I was busy taking all of the covers out of the jewel cases when it was my turn to meet her... so I had to juggle while holding my camera, posters and my bag of stuff I bought at BORDERS®.

I approached and told her I was happy to be meeting her and that my friend Carlos introduced me to her song "Put the Needle On It" and then I introduced several people in Portland to her music. She was so sweet and told Carlos "Thank you! Thank you!"

While she signed my CD's, I told her that I flew all the way from Portland, Oregon to meet her and that I admired her and Kylie both and have been following their careers, and that I saw Kylie in concert last year and had no idea Dannii was coming to the United States (which is why I bought an import copy of her CD "Neon Nights") and I told her I was excited that she finally was able to come here.

She said that she was hoping the record label would send her to the West Coast since she's been spending all of her time promoting her album on the East Coast.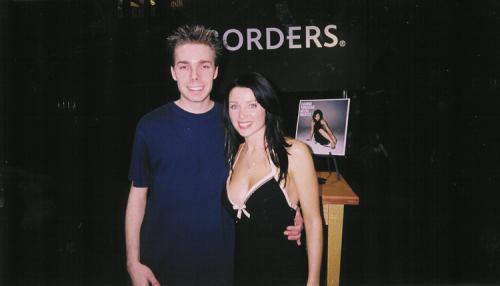 I have two copies of her "Don't Wanna Lose This Feeling" single. As she was signing them for me I had to explain that I had two because the first copy I bought didn't have her music video on it.

I asked her how the next album was coming along and she said that she was halfway through recording it and that she was really happy with what she had done so far.

She asked me if I was going to the concert afterwards and I said "Yes" and I asked her which songs she was going to be singing and she told me the playlist of five songs, then she posed with me for a picture and I thanked her for signing everything for me and then we left to go have dinner before the concert.

After dinner at Pollo Tropical, we went to a local museum to look at artwork by local Miami artist Naomi Fisher.

Then we left to conquer the "Not So Silent Night 2" concert put on by local radio station, Party 93.1,
Florida's Pure Dance Channel- which I have been listening to over the web for months now thanks to Carlos!
I wish we had a cool radio station like that out here.

We entered the Coconut Grove Expo and since it was standing only, we kindly pushed our way close to the front of the stage... so we could see Dannii when she came out on stage.

A group called "Lasgo" was playing when we arrived, so we had to wait for them to finish, and then a DJ came out and remixed for about 10 or 15 minutes and then Dannii Minogue hit the stage and the energy from her performance filled the room... everyone was dancing to her music!

The first song she performed was "Put the Needle On It" and we were all singing and dancing right along with her and her dancers. She even looked at ME in the crowd of people and I waved at her.

The next song she performed was a special bootleg remix [Dead or Alive's "You Spin Me Around (Like a Record) mixed with] her current US single "I Begin To Wonder."

Before she started singing the song she said "I'd like to dedicate this next song to Dustin, who flew all the way from Portland Oregon to be here with us tonight!" I nearly fainted!

OH MY GOD! My buddy Carlos was jumping up and down screaming and I was standing there in shock waving at her and everyone in the crowd and then she started singing "I Begin To Wonder."

I couldn't believe she remembered my name... it's extremely flattering that she acknowledged me in front of everyone. That was sooooo exciting!!! Completely unexpected!!! I was so shocked I couldn't even believe my ears.

After "I Begin To Wonder" she performed her ballad, "It Won't Work Out" and then went on to sing her hit-single collaboration with RIVA titled "Who Do You Love Now?"

Then she performed her last song of the night, the bootleg remix of "Don't Wanna Lose This Feeling." The bootleg remix features Dannii's song remixed with Madonna's "Into the Groove." Dannii even performed a minute of "Into the Groove" which was really cool!!!

After Dannii left the stage, Carlos and I left the concert to head back to the hotel since my hotel was nearly an hour away and he had to work early the next day to make up for leaving early to come pick me up.

On the way to the car, we saw Dannii's dancers outside cooling off, and talked with them for almost a half-hour while we waited for Dannii to leave the venue to go to her hotel.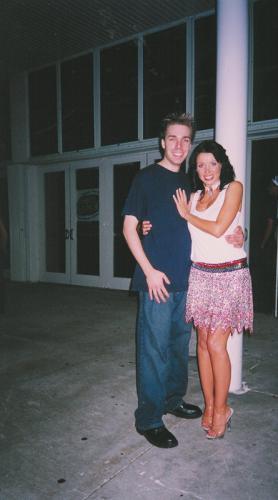 When she finally came outside, she gave me a hug and I thanked her for dedicating the song to me. She said "It was your show. I hope you enjoyed it. It was for you", and then we took another picture and I told her thank you again, and that I hope she had a nice flight (since I thought her dancers mentioned she was going back London the next day) then we headed home.

Saturday, December 6th 2003 – Checked out of my hotel room at 11:30am, arrived at the airport by 12:30pm, my first flight took off at 2:30pm and went from Ft. Lauderdale to Orlando. I changed planes in Orlando, and then flew to Kansas City, Missouri - from there it was off to Portland- the last three hours were the longest of my journey. I arrived home on schedule and Maria was there to bring me home.

It was an awesome ride! I am still in complete shock that I actually met Dannii Minogue!! I remember first hearing "Put the Needle On It" and watching her kick ass video for "I Begin To Wonder" thinking how cool it would be to meet her, but never in a million years actually thinking it would really happen. And, I was also fortunate enough to meet Carlos, with whom I've been friends with online for 5 years now.

So... Thanks for the plane ticket Uncle Jack, thanks for the safe trip clear across the United States and back Southwest Airlines, thanks to Comfort Inn for shuttling me to the airport and back on time, thanks to Carlos for picking me up and showing me a good time in Florida, and thanks to Dannii for talking with me, signing all of my CDs and posters and especially for the shout-out during the concert. It will be an experience that I'll always remember.