Dustin meets Paula Abdul in New York City
May 7th, 2004
Thursday, May 6th 2004 – Today was my first full-day in New York City. I arrived at my hotel in Times Square around 11pm EST.

I started my Friday around 10am by walking over to Rockefeller Center. I saw Christies (auction house) and Radio City Music Hall. Then I walked to NBC and shopped around at the NBC Experience Store.

Then I took a tour of the NBC studios and saw their master control room, Studio 8H where Saturday Night Live is filmed (magical), the NBC Nightly News studio (I touched Tom Brokaw's newsdesk), and went inside Conan O'Brien's "late night" studio which I learned they keep it cool at an even 43°. That was a lot of fun. I tried getting tickets to go see the Conan show, but he wasn't filming that day.

Then I walked along Broadway and took some pictures. They have several plays that look really interesting. I'd love to see "Avenue Q", "Beauty and the Beast" and "Wicked" but there wasn't enough time.

Then I went to Toys R Us in Times Square to pick up my tickets to meet Paula Abdul. After that, I went next door to the Virgin Mega Store and spent 2 or 3 hours there browsing their music selection. I bought five CD singles. I then stopped at the Planet Hollywood store, which wasn't very exciting at all and headed back to the hotel.

I called my mom, depressed because I wasn't happy being in New York all by myself. (My girlfriend of eight months, spent the last two weeks before the trip being indecisive about whether or not she was going to visit with me. To make a long story short, after changing her mind three times, and of course after I paid for her airfare, she canceled on me.

After that, I ate dinner and started working on letter for Paula that I intended on giving her when I met her. I had put off writing the letter because my creative energy had been drained from arguing with my girlfriend all week... so it was now or never. It took me four hours to get all of my thoughts on paper; it is one the finest letters I have ever written. I was very proud of myself.

Friday, May 7th 2004 – Today's the day! I'm finally going to meet Paula Abdul! I have been enchanted by her ever since I was nine years old. Who knew that fifteen years later I would be meeting her?

So many things were running through my head! I remember the first time I ever had heard of Paula Abdul was when my mother threw my brother's "Forever Your Girl" tape at me and told me to listen to something else besides "Weird Al." I was a silly 9-year-old kid back then, and didn't really know all that much about music.

I remember when Paula Abdul came to town on her "Under My Spell" tour to promote "Spellbound." I still remember seeing the advertisement in the newspaper. I wanted to go to the show... but my father told me I was too young to go to her concert... so I didn't go. I've never forgiven him for that. Thank God it was released on VHS - I still remember the day I bought that video.

Back to my story, I slept in (3 hour time difference) and when I woke up I checked my e-mail and met a guy staying at the hotel who possibly needs a web site built, and we talked for a while. Then, because I couldn't get the hotel printer working I had to go across the street and pay a company to print out my letter to Paula for me.

With all of the rushing around trying to get ready to meet Paula, getting my letter printed, going to HMV and back to NBC to buy a gift for my sister-in-law's birthday and then eating lunch time was moving a lot faster than I was... and finally 2:00pm had come and it was finally time to go to Toys R Us to meet Paula Abdul!


I met some really nice people while standing in line for 1 1/2 hours waiting to meet Paula. It was very refreshing to talk to people who share the same interests as I do. In particular, I met two people who I will never forget- they are Jacqueline and her mother. They were so incredibly nice to me and so supportive! I am so happy that they were there to share this amazing experience with me. They were so nice, they even took pictures of me while I was talking with Paula.

There was another couple there with their children, they were from Ohio and the husband worked for TOMY®, who put the event together to sell their "Micro-Dancer" toys, which are really cute. They were the ones who told me that Paula was going to be on Conan O'Brien tonight... which comes into play a little later in my story.

OKAY! It's my turn to meet Paula Abdul... and she threw her hands up in the air and said "Okay, who are you?" and gave me a hug. I told her my name was Dustin; I told her I flew all the way from Portland, Oregon just to see her and then told her about my web site, and she knew exactly who I was (I was so flattered!) and she knew my last name and everything...

Paula Abdul was so incredibly nice to not only me, but everyone that came to the event. She took pictures with everyone, and spent at least a minute or two with everyone talking to them, and really made everyone feel important.


After the event, I rode with Paula in her limousine to the NBC Studios where as I mentioned earlier, she was a guest on the Conan O'Brien show. I was issued a backstage pass and saw Paula's dressing room, and met her hairstylist (she's a hottie) and even stood right next to Lauren Graham (Gilmore Girls) while Paula was on stage with Conan.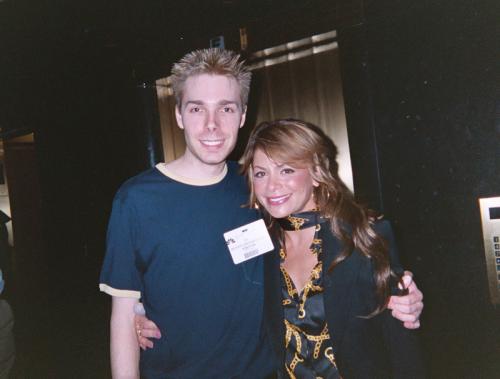 After Paula's segment was taped, we talked for a few more minutes before she left for dinner, I took a picture and went back to my hotel room to tell my family about my amazing experience.

Paula Abdul was so nice to spend so much time with me, and I'm very grateful for everything that took place during that time. It was a dream come true, and I'll never forget it.

After I called everyone, I ate dinner and headed for Ground Zero to see the aftermath of the World Trade Center, and then snapped a few pictures of the Statue of Liberty and headed back to the hotel room to pack and go to bed. I had to get up early to drive to New Jersey; my airplane departed at 8am.

The flight home was very nice. I made friends with a preachers wife who happened to be sitting next to me, and we watched "Left Behind" on my laptop and had a wonderful talk.

I was home right on time. I then attended my sister-in-law's birthday party at my favorite pizza restaurant (Pietros) and showed everyone the pictures from my awesome trip to New York City.